Registration
Information / Registration

ICCJ Conference Aix-en-Provence
"Secularity: Opportunity or Peril for Religions?"
2013, June 30 - July 3
please see:
---
Information / Inscription

ICCJ Conférence Aix-en-Provence
"La Laïcité : une chance ou un défi pour les religions?"
30 juin au 3 juillet 2013
consultez:
---
IAF Conference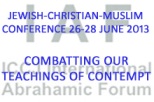 IAF Conference 2013
La Baume, Aix en Provence
26 - 28 June 2013
Combatting Our Teachings of Contempt;
Jewish, Christian and Muslim Introspection and Projection
Please see:
- IAF Conference 2013
The Young Leadership Council of the International Council of Christians and Jews
in conjunction with
L'Association Coexister
Present our 2013 International Conference:
"Faith and Identity
in Secular Societies"
June 27 – 30, 2013
Aix-En-Provence, France
Information and registration
please click here:
YLC Conference 2013


Ruth Weyl passed away
I am sorry to have to share bad news with the family of the ICCJ—our beloved friend and colleague, Ruth Weyl, has died at the age of 89. She passed away on Sunday, May 12th (the 3rd of Sivan in the Jewish calendar.) ... [more]
As long as you believe....
In response to requests from national member organizations, the ICCJ Executive Board, including the co-chairs of ICCJ's International Abrahamic Forum, met in London from 11-15 February 2013 to discuss the polarization triggered by the protracted conflicts in the Middle East, especially the Israeli-Palestinian dispute. ... [more]
ICCJ is looking for a new General Secretary
Are you looking for an exciting job? Join the International Council of Christians and Jews! Apply for the position of the General Secretary. ... [more]